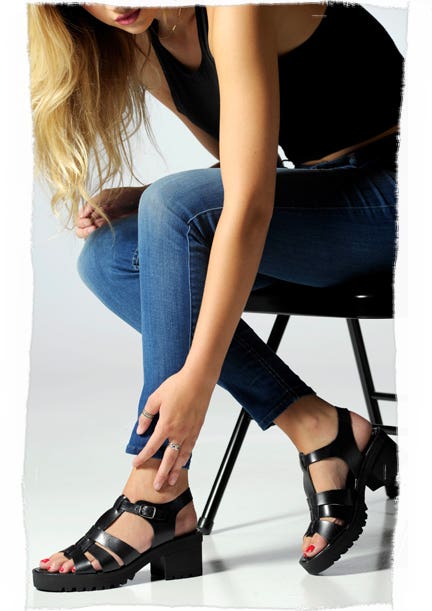 Size and Fit
When it comes to footwear, finding your perfect fit isn't always easy. we know that a poorly fitting shoe can affect your posture, your foot health and your confidence. We also understand that shoe shopping online can be a real challenge. To combat this, we've provided this page to tell you everything you need to know about finding the right shoe for you. Happy Shoe Shopping!
what's my size ➭
the perfect fit ➭
show some love ➭
our secret to a great fit ➭
What's My Size?
Feet can change shape and size over time, and so it's important to measure your feet regularly. Always measure at the end of the day when your feet are at their largest. To find your shoe size, grab a ruler, a pen and a piece of paper and follow these steps:
Place the paper on the ground and stand on it with your weight slightly forward to make sure your foot is flat.
Draw a line behind your heel and another line in front of your longest toe. Don't worry, it's common to have one foot longer than the other, so use the longer foot to measure.
Measure the distance between lines in inches or centimeters.
Find your measurement on the size chart below to figure out the best fit. Round up if your size falls in between.
| US Sizes | Euro Sizes | UK Sizes | Inches | Centimeters |
| --- | --- | --- | --- | --- |
| 5 | 35-36 | 3 | 8.5" | 21.6 |
| 5.5 | 36 | 3.5 | 8.75" | 22.2 |
| 6 | 36-37 | 4 | 8.875" | 22.5 |
| 6.5 | 37 | 4.5 | 9.0625" | 23 |
| 7 | 37-38 | 5 | 9.25" | 23.5 |
| 7.5 | 38 | 5.5 | 9.375" | 23.8 |
| 8 | 38-39 | 6 | 9.5" | 24.1 |
| 8.5 | 39 | 6.5 | 9.6875" | 24.6 |
| 9 | 39-40 | 7 | 9.875" | 25.1 |
| 9.5 | 40 | 7.5 | 10" | 25.4 |
| 10 | 40-41 | 8 | 10.1875" | 25.9 |
| 11 | 41-42 | 9 | 10.5" | 26.7 |
The Perfect Fit
Well-fitting shoes not only feel better, but they last longer too, so you'll have happy feet AND a happy wallet! Use the following tips to make sure you're wearing the right size:
Make sure you are standing, wearing the socks or stockings you will wear with your new shoes.
Make sure the ball of your foot (the widest part) fits in the wide part of the shoe
Most of us have one foot that is larger than the other, so fit your shoe to your larger foot.
Tempting as it may be, don't just stand there admiring your feet in the shoes you're trying! Walk around in them and make sure they feel good walking.
Make sure you have about 1/8th of an inch of wiggle room at the back of the shoe: your heel should move up and down freely. If it's too tight, you'll rub your heel too much; if it's too loose, your foot may slip in and out, causing blisters. Ouch!
You should try to have about a half inch between the top of your toes and the end of the shoe. Let those toes wiggle freely!
Make sure there's room in the toe box for your toes to sit comfortably without being squashed together into an unnatural shape.
Show Some Love
Whether your style is made from soft leather, luxurious suede or an innovative PU, each of the different materials we choose to create our shoes from is hand selected to offer the best quality. We build our shoes to last, but taking the time to care of your White Mountain footwear keeps them looking their best and helps them last even longer.
Man Made Footwear
Our man made fabrics use state of the art technology and a fabulous finish so you'll barely notice the difference. While synthetic shoes and boots are not as vulnerable to water damage as leather, regular exposure to moisture will still damage them over time. In order to maximize the lifetime and comfort of synthetic styles, regular waterproofing and thorough cleaning is required.
Clean your shoes or boots with a stiff nylon brush to remove dirt and dust, making sure to clean between any small gaps on the sole. Use a damp, soft shoe cloth to wipe away any lingering dirt.
Apply a synthetic boot cleaner agent to the entire surface area of the material and allow it to air dry when finished.
Apply a silicone-based waterproofing agent to the entire surface area of the material. Work the agent deep into the seams on the sole, as they will be particularly vulnerable to moisture intrusion.
Shoe Storage
Although it's tempting at the end of a season to toss everything into a bin and deal with it in nine months, try to resist the quick fix and take some time to put your footwear away properly. You'll be glad you did when the next season rolls around!
Boots should be cleaned before you put them away for the season.
To help them retain their shape, fill them with scrunched-up plastic bags or tissue paper or use boot shapers.
Store sandals in their original boxes or in a plastic bin to protect their shape.
Keep laces tied and buckles closed to prevent damage to the fastenings or to the inner linings of your footwear.
Our Secret to a Great Fit
Picture the scene. It's a gloomy Tuesday afternoon in October, you're busy working away at your desk and then, suddenly, a brand new pair of shiny summer sandals hit your desk. "Put these on and let me know what you think!" requests a member of the design team. "Oh, and make sure you take lots of trips to the printer and water fountain- we need to see how they move!" This kind of random fitness testing is commonplace for the female employees here in our Corporate Offices. As well as giving our design team the chance to see how their latest creations will work on real, everyday woman, it also helps us to get to know and really love the products we sell (in fact, it's often rather difficult for the designers to get their samples back!).
No two pairs of feet are the same, and so it's important that each of our styles be carefully fit tested among a large variety of different foot shapes and sizes before they are put into production. As well as these fun office tests, each of our shoes undergo rigorous checks using groups of specially trained 'shoe testers', where everything is measured, from comfort to stability.
Here are White Mountain, we're meticulous in making sure every detail is up to scratch and fit testing is an important part of our company culture. For every style we fit twice. The first fit, oddly enough, is called the "Final Fit". It is always carried out on a size 6 and for this we use two very good fit models who, combined, has been fitting shoes for us for over 20 years! These lovely ladies have seen the changing fashions and trends of the footwear industry over the years and know exactly how our shoes should fit.
When the first fit is approved, the shoe factory produces what is known as 'extreme sizes'. We use sizes 6, 8 and 10 as our "Extreme Fit" samples and, once again, carry out our testing on ladies who have already fit many, many shoes for us. It is their experience, combined with the skill and dedication of our designers and product developers, who ensure that our shoes fit right, every time.